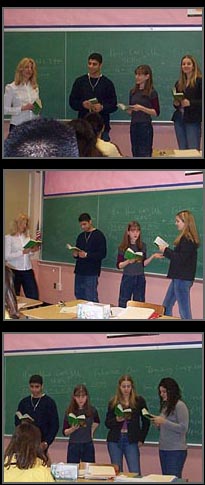 This is my AP English class. Our teacher is Ms. Weiss, who is a very smart and tough lady. Although the class is tough, I really appreciate it. It's the only class that's near impossible to get a 95 in! Since this is a college course class, we spend most of our time exploring the immeasurable depth of classic novels. It's amazing how the novels you explored in Jr High turn out to be these intricate expeditions into the human psyche when explored on a higher intellectual basis.
I enjoy writing my own poetry and short stories, although I usually write them on a much more personal level. My favorite poet and short story writer is Edgar Allen Poe. I don't think we go over any of his work in High School curriculum. His stories are filled with sinister passion and morbid gloom. My favorite childhood author is Roald Dahl. I used to love running to the library to take out one of his stories.
I appreciate English because I feel that it enriches and educates my own thinking. Extending my own vocabulary and learning to understand complex metaphors are just some of the lessons to be learned through the discipline of an English course.